My six-year-old son and I are at the Neapolitan hairdresser's for the first time. Of course, we want to integrate as quickly as possible, find our feet and live like the locals! But there are limits…
Always a thrill, going to a hair salon where you haven't been before. Especially in another country. Fortunately my own first visit to this place, a few weeks ago, went well. However, I had to undergo quite a lengthy ritual and there seemed to be a considerable hierarchy among the staff. So best to allow for plenty of time. A wash first, followed by a lot of standing up and bending over to determine the correct hair length. And then a considerable wait for the salon owner to appear and actually cut my hair.
Now it's my son's turn. He also receives a proper salon hair wash and enjoys the attention. Children are welcome anytime, anywhere in Italy! He's offered a high chair in the 'men's section' of the salon. Our hairdresser, Ciro, is already at his side and nods affirmatively after my extensive explanation (luckily I speak Italian!): "Definitely not too short, plenty of volume, just a trim. A slightly messy, surfer's hairstyle, you know what I mean? Not a childish cut. Only just a tiny bit shorter," I emphasise again. Ciro says: "Sì, sì, non ti pre-occupare" – don't worry – and his entire demeanour signals: Hey, relax, I know exactly what you want me to do.
Completely confident that Ciro will give my son a nice, on-trend Italian hairstyle, I sit down and get my phone out. In the background, the scissors quietly do their job while my son cheerfully admires their progress in the mirror. Then suddenly I hear an alarming noise: hair clippers! I look up in terror, and discover that Ciro has shaved, yes shaved, one side of my son's head to fashion a true Neapolitan footballer's hairstyle with a tuft on top. I race to the chair, but of course it's too late: the hair on his other side on his head has to go too. "Signora, it's very hot over here and all men wear it this way. You'll need to come back next week, because we have to keep it short, of course."
Joletta de Man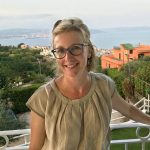 Joletta de Man and her husband, who works for the Dutch Ministry of Defence, live in Pozzuoli near Naples, southern Italy, with their son and their dog. She studied at Leiden University in the Netherlands, was an employment agent, a recruiter and then a senior communications consultant at an international company. As a child, Joletta lived in five different countries and still enjoys family adventures.
Main photo (top): Paul Horsefield – Flickr