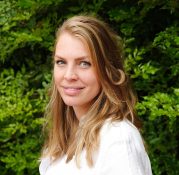 Before Julia undertook her first adventure as an expat partner, she had lived in Italy and in Zambia. Her first true expat experience was in Lima, Peru. After that, she and her husband moved to Dublin, Ireland. Nowadays they live in the beautiful and green city of Belo Horizonte in Brazil, where their son was born in early 2019.
What Julia loves about being an expat partner is the opportunity to explore different career paths. She has worked as an HR consultant for large corporates, as well as a Consular Officer counselling incarcerated people. In Dublin, she found her true passion; as a Performance Consultant she has helped professionals across the world to reach their full potential. As a consultant for Global Connection she wants do to the same; help others find their true north and figure out their path to get there.
In her free time Julia loves spending time with her family and their adopted Brazilian street dog, finding the best restaurants in town, and exploring new cultures.